Noah G.S. - Artist Statement

"Mug" is a ceramic mug with a man's face in it. I was inspired by some mugs I saw at a pottery store that had a similar design. Originally I was going to make a hand holding a d20 but it proved itself to be too difficult for my first real attempt at sculpting. The change of projects in the middle of the process was also a little bit difficult, but it was easier than the original plan. Aside from the inspiration that I found in a pottery store, I found inspiration in a video on youtube about how to hand sculpt a mug. As I've previously mentioned this is my first serious attempt at ceramics therefore I learned a new medium and had to work the challenges that come along with that. After the first day I learned to use some of the sculpting tools and learned a little about how clay acts and it was smooth sailing from there. I like how this project turned out and I will be giving it to my sister as a Christmas present.
Powered by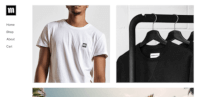 Create your own unique website with customizable templates.